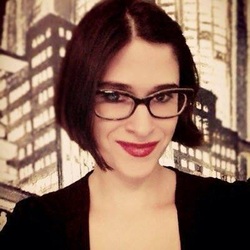 A dramaturg, scholar, teacher, and historian of wide-ranging interests, Dr. Maya Cantu earned her Doctor of Fine Arts degree in Dramaturgy and Dramatic Criticism in 2014 at Yale School of Drama, where she previously received her MFA. She teaches on the
Drama faculty
of
Bennington College
.
Maya's book,
American Cinderellas on the Broadway Musical Stage: Imagining the Working Girl from
Irene
to
Gypsy,
was recently published by Palgrave Macmillan
, as part of their Studies in Theater and Performance History series, edited by Don B. Wilmeth. Based upon her dissertation,
American Cinderellas
explores how the Broadway musical from the 1920s through the 1950s adapted and transformed the Perrault narrative in order to address changing social and professional roles for American women. The book received the 2015 Publication Subvention Award from the
American Theatre and Drama Society
.
Maya is Dramaturgical Advisor at Off-Broadway's
Mint Theater Company
, where she is currently working on Miles Malleson's
Conflict
(1925), directed by Jenn Thompson, starting May 25, 2018 at the Beckett Theatre, Theatre Row.
At the Mint, Maya has previously worked on Stanley Houghton's
Hindle Wakes
(1912), A.A. Milne's
The Lucky One
(1917), Malleson's
Yours Unfaithfully
(1933), N.C. Hunter's
A Day by the Sea
(1953), Hazel Ellis's
Women Without Men
(1938), Harold Chapin's
The New Morality
(1912), George Kelly's
The Fatal Weakness
(1946) and
Philip Goes Forth
(1931), John Van Druten's
London Wall
(1931), and as production dramaturg on Ferenc Moln
á
r's
Fashions for Men
(1917; directed by Davis McCallum, and broadcast as part of PBS/WNET's "Theater Close-Up" series).
Maya has also served as dramaturg at Yale Repertory Theatre, Yale School of Drama, and Yale Cabaret, on productions ranging from Henrik Ibsen's
The Master Builder
to Charles Ludlam's
The Mystery of Irma Vep
. She has also contributed dramaturgical writing to Dorset Theatre Festival and Red Bull Theater, for Theresa Rebeck's
The Way of the World
.
Her essays and reviews have been published in
New England Theatre Journal,
Studies in Musical Theatre, Theatre Journal, The Sondheim Review
, the New York Public Library's Musical of the Month series, the Clyde Fitch Report, and in
The Palgrave Handbook of Musical Theatre Producers
(Palgrave Macmillan, 2017)
.
She has also presented papers at conferences including Song, Stage and Screen, ASTR, NETC, and ATHE. In 2010-2011, she served fellowships at Yale University Art Gallery (as Rose Herrick Jackson Curatorial Fellow, for the exhibition "Coney Island: Visions of an American Dreamland"), and at Yale Rep (as Artistic Coordinator).
Maya's research specializations encompass Broadway musicals and plays of the modernist era; American theater and drama; American musical theater history; vaudeville, burlesque, and revue; women in theater and feminist theater; classical theater; studio-system Hollywood; and intersections of stage and screen. She is originally from Northern Virginia.
Twitter: @mayamcantu.